Topics Map > Windows

Topics Map > myNMSU Support > Account Support

Remote Desktop- How to set up Remote Desktop from Windows to Windows
Remote Desktop allows you to take remote control over another networked PC. It's comprised of a Remote Desktop server service that allows connections to the PC from the network and a Remote Desktop client that makes that connection to a remote PC. Using this service will allow NMSU employees to be able to access their work computers remotely or from home.
To set up Remote Desktop, follow steps below:
Step 1:
Open your Windows File Explorer.
In File Explorer, navigate to the left side of your computer and right click on This PC.
After you right click This PC, you will be provided with a "list of options" to select from.
In the drop down options list select Properties.
Step 2:
On the top left corner of your Control Panel Home, click on Remote settings.
Step 3:
Under the "System Properties", select the Allow remote connections to this computer option. Additionally, make sure that the box next to "Allow connections only from computers running Remote Desktop with Network Level Authentication (Recommended)" is checked.
After, click the Select Users… button at the bottom-right corner.
Step 6:
Under "Remote Desktop Users" Windows, click Add and then type your username into the field provided in the dialogue box display (NMSU username).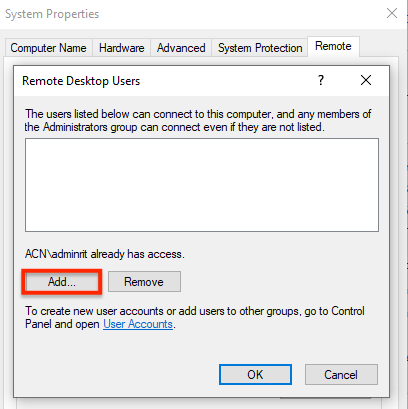 Step 7:
After, you will see your username in the "Remote Desktop Users" window: this indicates that you can log in to this PC, even if it is waiting at the "Log In" prompt.
Click OK on any open windows, you have successfully configured Windows Remote Desktop.
---
After Configuring your Remote Desktop, you can complete the second steps below to remotely access your work computer from a remote location.
Step 1:
On your computer home screen, navigate to the "Search tool" and type in the search field "Remote Desktop Connection".
After the search is complete click on the Remote Desktop Connection icon to start configuration.
Step 2:
Provide your "computer name" in this field and click Connect.
(computer name can be found under system).
Note:After step 2, you will be prompted to provide certificate information. If prompted, navigate to the left corner of the dialogue box and check box. After, click Yes to proceed.

Step 3:
You will then be prompted to provide your password.
Type in your password and click on OK.